News & PR
Area Students Honor Hammond-Henry Hospital Employees
March 17, 2021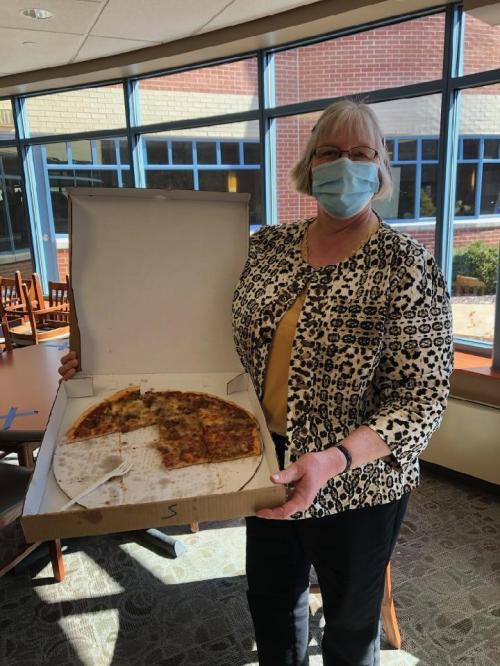 Above: Julie West, Volunteer Manager shows off pizza donated by Southwest Elementary Students and Staff.
In the month of March, area students showed their support for Hammond-Henry Hospital employees. From Geneseo Southwest Elementary and St. Malachy Catholic Church CCD students provided support to our hospital employees." Riverdale Elementary and Middle Schools also saluted healthcare workers. Some of the treats went to the entire hospital staff and others went to specific departments.
It began with an effort from Southwest Elementary. Through the school's "Coins for Caring" project students brought in loose change. After the staff contributed, they raised $900. With that money they decided to buy pizza for the entire Hammond-Henry Hospital staff including the outlying clinics located in Annawan, Cambridge, Colona, Kewanee and Port Byron
Later that week, Hammond-Henry Hospital Environmental Services staff were honored by two St. Malachy CCD 8th graders. Lily Taylor and Annie Maxwell presented staff members with chocolates and thank you cards as part of a service project for their CCD class. Taylor and Maxwell wanted to salute some unsung heroes of the pandemic. Though housekeeping staff may not treat COVID-19 patients, they are the force behind the healthcare workers to disinfect and maintain cleanliness during this extraordinary time.
In the following week, the hospital received a package of handmade cards from Riverdale Elementary students (K-4). The cards included messages of support and colorful artwork. One message read, "Thank you for saving the country! You are so inspiring. Hope you are safe. Good luck with all of your patients." The same day, Riverdale Middle School stopped by the Hammond-Henry Hospital Medical Group in Port Byron and gave balloons, cards, and a cookie cake to the staff.
The employees were very touched by the actions of our youngest community members. Hammond-Henry Hospital thanks all of our young people and commend all for your strength during this very difficult time.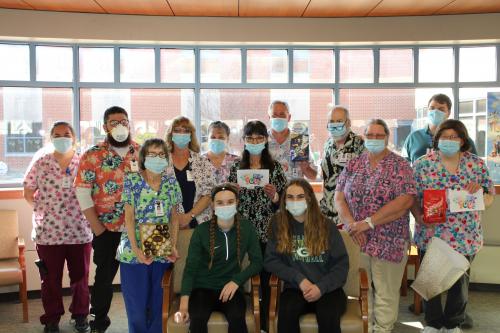 Seated L-R: Lily Taylor, Annie Maxwell
Second row L-R: Cindy Hopkey, Cindy Deakin, Patricia Maynard, Marcia Boyer
Back row L-R: Nicole Atwell, David Frew, Penny Diericks, Kathy Marlow, Dwayne Thurston, Dave Guldenzopf, Sean Goepper