Therapy Services
If you have suffered a setback, it's the "things" that you are missing out on that hurt the most. We understand that. When you choose Hammond-Henry Rehab Services, you are matched with highly skilled therapists ready to guide you back into your life. With compassion and encouragement, your team will prepare a program tailored to your needs to help you succeed beyond discharge. Take a moment and think about what you would like to accomplish…
With your goals in mind, we pledge to find the best treatment plan for you utilizing physical therapy, occupational therapy and/or speech therapy. We see a little of ourselves in each patient and we truly want to optimize your recovery. Whether you are looking to get back into gardening, improve your golf game or just pick up your grandchild, Hammond-Henry Rehab Services is ready to get you there.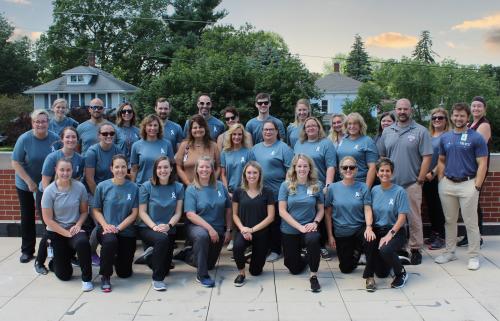 Tudi Edwards Rehab Center for Excellence:
Our center features private treatment rooms, men's and women's health room, a kitchen, a therapy gym, an outdoor treatment terrace, and an aquatic rehab center. Our beautiful center was made possible in part by the generous gift of John F. Edwards in memory of his late wife Tudi.
Complimentary Screenings:
No matter our stage in life, questions about how we feel physically can come up.
My knee hurts. What can I do?
My hands don't seem to work as well as they used to, is that just old age?
After that hit on Friday night, I just don't feel right. Do I have a concussion?
At Hammond-Henry Rehab Services, we understand this…and we understand the human body. That is why we offer complimentary screenings for any physical pain or ailment you may be experiencing. Screenings include but are not limited to:
Hips, Knees, Shoulders, etc.
Sports Injuries
Balance & Falls
Urinary Incontinence (women and men)
Arthritis (wrists, hands, etc.)
Screens:
are free
do not require a physician order
identify what your clinical need is:

Home Exercises
X-Ray or Other Imaging
Health Care Provider Visit
Clinical Therapy
What can I expect at my first visit to rehab therapy?
No matter the reason for your visit, you will first be welcomed by a friendly, courteous staff member. Here are some tips for your first visit:
All new patients and clients will be required to provide valid photo identification (Driver's License, State ID, Passport, School ID) in addition to their insurance card
Call your insurance company before your visit to verify coverage
Arrive 15 minutes before your scheduled appointment time and expect an hour for your appointment
Wear comfortable clothes that are suitable for your treatment
Please notify us 24 hours in advance of your appointment, if you need to cancel
Fax: 309.944.9259