News & PR
Long Term Care Living Center Achieves Rating of Excellence for Eighth Year Running
February 6, 2020
(Geneseo, IL- February 2020) – Hammond-Henry Hospital Long Term Care Living Center has been recognized as a 5 Star facility for the eighth year in a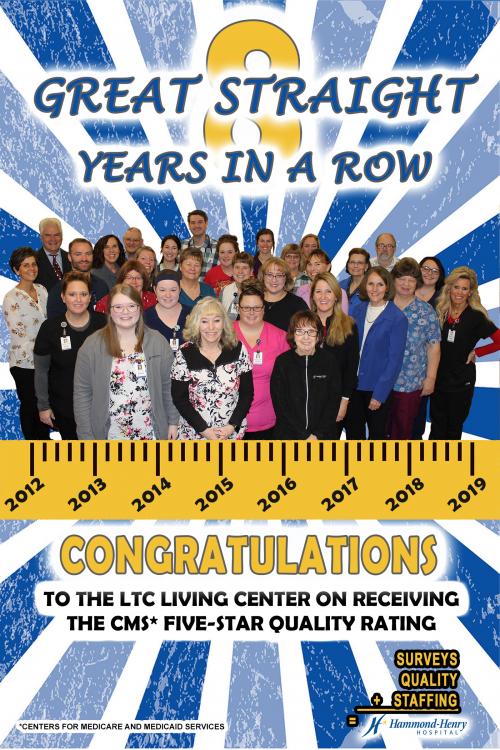 row by the Centers for Medicare & Medicaid Services (CMS.) CMS is part of the Department of Health and Human Services and created the Five-Star Quality Rating System to help families and caregivers compare nursing homes.
An overall rating is given for each nursing home, and a separate rating for additional areas of operation, including health inspections, staffing and quality measures. Findings are based on recent health inspections, complaint investigations, hours of care provided on average by nursing staff, and how well nursing homes care for their residents' physical and clinical needs.
When making the decision on long-term care, residents and families have much to consider. The Five-Star Quality Rating System aims to make that transition a bit simpler by comparing data year-over-year and providing consumers a comparable score for each center. Hammond-Henry Long Term Care has offered the highest level of care and received this award for eight straight years, offering residents a choice close to home, where they can make their new home. "Our care is so much more than a score, and we aim to help our residents remain active by providing individual care plans, a wide variety of activities, and several different living arrangements to meet each individual's needs," Wyatt Brieser, DPT, LTC Manager.
CMS decides their rulings by using regular inspections and data compiled from nearly 800 Illinois long-term care facilities serving approximately 100,000 residents. Less than ten percent (10%) of the facilities achieve five-star status each year.