News & PR
HHH Long Term Care Living Center Earns 5-Star Rating for Seven Years in a Row
December 28, 2018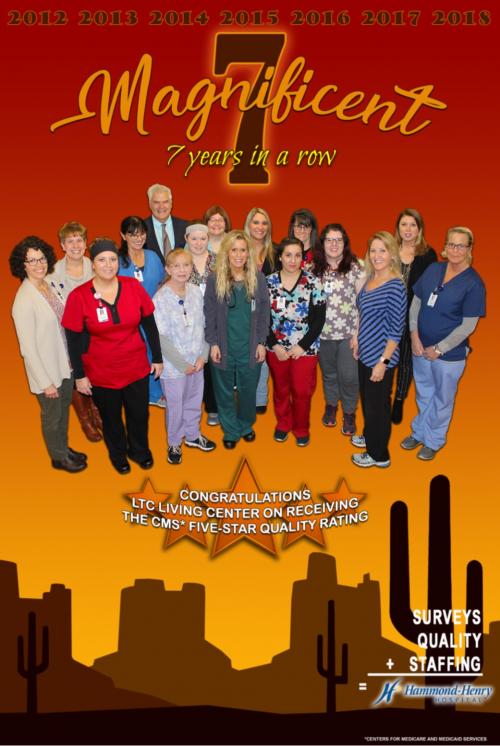 Hammond-Henry Hospital (HHH) is pleased to announce that the HHH Long-Term Care (LTC) Living Center has received a rating of five stars from The Center for Medicare and Medicaid Services (CMS) - the highest possible rating given by the organization. The official government website, Nursing Home Compare Five-Star Quality Rankings, is annually updated by CMS based on nursing home ratings in three primary categories - health inspections, staffing, and quality measures to develop an overall star rating. This rating system is ever-changing with new quality measures covering successful discharges, emergency visits and readmissions to the hospital.
Julie Theill, Director of Long Term Care stated "We continue to be grateful for the opportunity to serve our surrounding communities with high quality care in our Long Term Care Living Center. Achieving the CMS 5 Star status for seven consecutive years is a true honor and I commend our staff, volunteers, and leadership for achieving this unique distinction." The day-to-day operations are overseen by Dawn Bryner, Manager of Hammond-Henry Long Term Care Living Center. Bryner has served in this role for ­­4 years. This continuous honor reflects Bryner's leadership and the staff's dedication.
CMS decides their rulings by using regular inspections and data compiled from nearly 800 Illinois long-term care facilities serving approximately 100,000 residents. Less than ten percent (10%) of the facilities achieve five-star status each year. This most recent rank makes seven consecutive years for HHH LTC's five-star rating.