News & PR
Health Fair Open House Oct 18th
October 9, 2018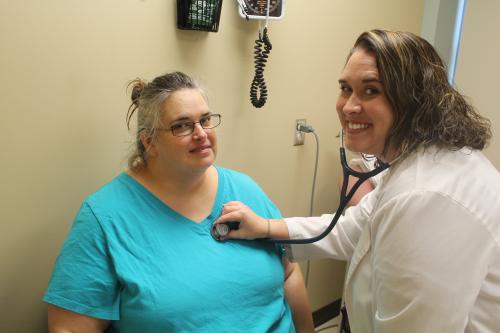 Dr. Kari Dodds, who recently joined the Regional Health Partners in the new clinic at Hammond-Henry Hospital, Geneseo, is shown with patient Theresa Minnick-Ressen. Dr. Dodds is one of the keynote speakers at the upcoming Health Fair/Open House at the hospital on Oct. 18.
Hammond-Henry Hospital is hosting a Health Fair/Open House from 4 to 6 p.m. o n Thursday, Oct. 18, at the hospital, 600 North College Ave., Geneseo.
Hammond-Henry Hospital is hosting a Health Fair/Open House from 4 to 6 p.m. on Thursday, October 18, at the hospital.
Visitors will be able to meet Dr. Kari Dodds, the newest family practice physician to join the Regional Health Partners clinic. She will present "What to Expect at Your Cancer Screening." Nurse Practitioner Heidi Vorac, also with the Regional Health Partners Clinic, will present "Who We Are and How We Meet Your Healthcare Needs." The event will include pork chop sandwiches served from 4:30 to 6 p.m., free to those who attend. Door prizes will be awarded and free items will be distributed to guests.
Three OB/GYNs from Geneses Health Group in Silvis will be introduced and will be available to answer questions. The physicians are Dr. Iurie Caraman, Dr. Lori Claypool and Dr. Brian Kilonzo. The trio offers prenatal care and gynecological services at the Hammond-Henry Specialty Clinic on a rotating basis. They are now accepting new patients for Wednesday appointments. Note all deliveries will be at Genesis Medical Center, Silvis BirthCenter. The Hammond-Henry Specialty Physician Center is located in Suite 110 at the hospital. For more information call 309-281-2140 or go to genesishealth.com/geneseoobgyn.
Kari DeBrock, Community Health Educator at HHH, said, "We want our visitors to meet our new healthcare providers and learn how we can meet their healthcare needs right here in Geneseo. We are also very excited to display our newest bone density imaging equipment."
The Health Fair will also include:
-Hospital Services Booths
-Tours - Colo Aquatic Center
Tudi Edwards Rehab Center
-View - "New" Bone Densitometry Machine
-Screenings- blood pressure, pulse oximetry and ABI's (ankle brachial index).
-Drop-off unused or expired medications