News & PR
Doc Stars: Backstage Pass to Surgical Services Open House set for September 28
August 31, 2023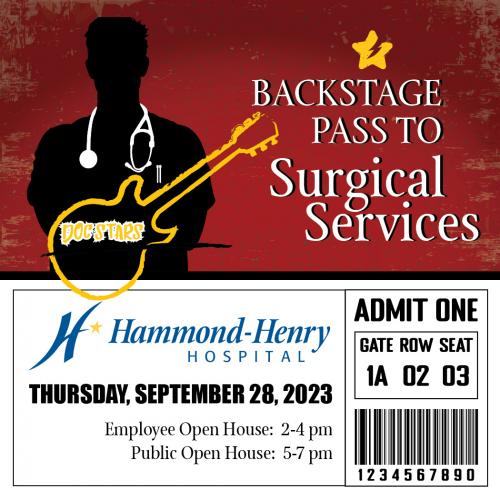 Hammond-Henry Hospital invites you and your family to attend our "Doc Stars: Backstage Pass to Surgical Services" Open House, slated for Thursday, September 28 from 5 to 7 p.m. An Employees Only tour will be conducted from 2 to 4 p.m. that same day at the hospital, which is located at 600 N. College Avenue, Geneseo. There is no charge to attend, and no advance reservations are needed. Light refreshments will be served.
Click here to view Missy Braddock's interview on Paula Sands Live
The "Doc Stars" open house will begin with a stop at our ticket booth, located at the North Entrance, followed by guided "red carpet" tours of the Surgery Suite, located on the hospital's second floor. All participants - children and adults alike - are invited to explore a "behind-the-scenes" look including the opportunity to meet our doctors, view actual videos of an arthoscopy (knee surgery), gall bladder removal, and a colonoscopy, and view the procedure from the same vantage point a surgeon has while operating the robot.
"People don't realize the incredible cutting-edge equipment we have here at Hammond-Henry," said Melissa Braddock, Surgical Services Manager. "They often think since we're a smaller, independent critical access hospital that we may not have all the amenities of a larger facility. I can tell you, you will definitely be surprised."
The primary goal of this event is to offer education on the surgical services offered at our hospital. Surgical Suite nurses will serve as your tour guides, escorting you through two of the hospital's Operating Rooms, Endoscopy Room, the PAT (Pre-Admissions Testing/Family Living) Room, the PACU (Post-Anesthesia Care Unit), Surgical Clinic, and the Rehab Department, including the Tudi Edwards Rehab Center for Excellence and the Colo Aquatics Center.
"Four surgeons will be featured, and you will be invited to ask questions following their presentations," said Braddock. "We will comprehensively explain every step of the process: from the surgery check-in to the actual procedure, on through post-surgery and physical therapy. We have a top-notch team from start to finish, and this is a golden opportunity to show them off."
The four presenting surgeons include Dr. Mark Davis, FACS; Dr. Matthew Heberer; Dr. Mark Stewart; and Dr. Thomas Rizzo. Representatives from Intuitive, Zimmer, Olympus, and Vantage will also be present to answer any specific equipment questions. The stations include a focus on total joint replacements, gall bladder removal, podiatric surgeries, cataract surgeries, endoscopic procedures, general surgeries, and physical and occupational therapy.
There will be 10-minute stops at each of the stations, with swag bags, photo opportunities, and light refreshments served at the tour's conclusion. For more information about this event, please call 309.944.9169 or tune into the Paula Sands Live show on September 21.
FOR MORE INFORMATION ON OUR SURGERY SERVICES
FOR MORE INFORMATION ON OUR SURGICAL CLINIC
FOR MORE INFORMATION ON OUR REHAB SERVICES