News & PR
Jo-Carroll Energy donation benefits HHH's new nurse call system
August 23, 2023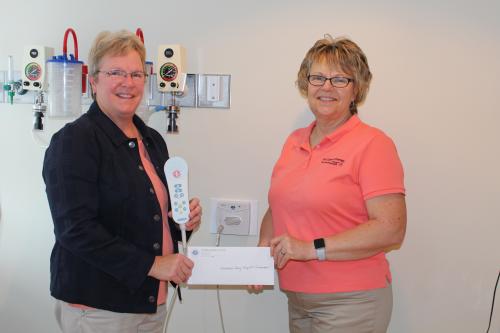 Hammond-Henry Hospital recently installed a new nurse call system in Long Term Care, Same Day Surgery, and Acute Care. This upgrade provides one remote for patients that allows them to call for assistance as well as control the lights and television in the room. The call lights can be addressed from the nurse stations in each department.
In addition, Code Blue Alarms were installed throughout those departments as well as in the operating rooms. One touch to the button alerts all hospital staff within the building that a code blue is occurring and necessary staff need to respond. This upgrade was thanks in large part to donations to the Hammond-Henry Hospital Foundation. Some of those donations included a Sharing Success Matching Grant through Jo-Carroll Energy Inc. & Co-Bank in which the Foundation was selected as one of the winners. Both companies donated $2,500 totaling an additional $5,000.
Darcy Hepner, Foundation Manager at Hammond-Henry Hospital, accepted this donation from Laurel LeSage, BIlling Services Manager with Jo-Carroll Energy.