News & PR
Hammond-Henry Rehab Staff Attends Training with World-Renowned Dr. Gary Gray
June 5, 2019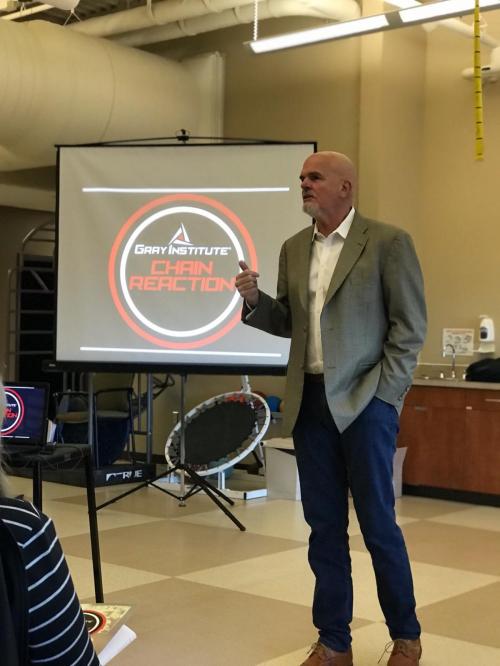 (Geneseo, Ill.) Hammond-Henry Hospital (HHH) is home to many departments offering varied services. One of those departments is the HHH Rehabilitation Services. Managed by Julie Theill, this department continues to grow and learn about the biomechanics of movement through the study of Applied Functional Science. This past month, there was no exception. Dr. Gary Gray, CEO of the Gray Institute in Michigan, was on campus to present Chain Reaction®, the longest running and most successful seminar in the movement industry. The thought process behind Chain Reaction® is that if you have an ailment in one part of your body, the rest of your body is affected and should be treated as well. Through Chain Reaction®, clinicians learn a system to analyze and assess movement which shows them how the injured area has an impact on movement within the whole body and how compensations within the body lead to injuries over time. By observing global movements, HHH therapists analyze and help figure out a plan of care based on the unique movement patterns of each individual.
Dr. Gray began his career as a physical therapist and quickly immersed himself into the many facets of physical health including human biomechanics. He has taken his knowledge and developed educational programs to help physical therapists and other health care professionals understand the unique qualities of movement and apply their knowledge to help people return to or beyond their prior level of function. Over the past 10 years, HHH Rehab employees have been given opportunities to expand their knowledge using the methods conceived and taught at the Gray Institute. Not only does HHH Rehab utilize the concepts taught in Chain Reaction®, but also, other Gray Institute programs as well. Greg Janicki, a Physical Therapist at HHH was the first to take classes from the Gray Institute and introduced the programs to Julie Theill. Janicki states, "Patients at HHH are treated as a whole person, not just a muscle, joint, or diagnosis. By integrating what we learned in graduate school with post professional educational opportunities through the Gray Institute, we have a good understanding of the biomechanics of movement. Most of our clinicians are also certified in the most comprehensive movement screen in the industry, the 3D Movement Analysis and Performance System."
During his visit, Dr. Gray talked of his travels around the world to teach Applied Functional Science. When asked about his relationship with HHH Rehab Gray said, "I have the opportunity to go all over the world to teach and you see how much emphasis is put on education, patient care, and the goal to get better. Without question [HHH Rehab] is the most positive mecca of rehabilitation in the world." Eight HHH Rehab employees are Gray Institute Fellows (a 40-week immersion program) and the relationship with the Gray Institute continues to grow. Even new physical therapist, Sarah Bubik, is on board with this system. Bubik states, "From the first moment we met, I was extremely impressed with Dr. Gray as a person. He was a captivating speaker, involving his audience, and having us get up and move throughout the course…his principles made sense...function. Function. FUNCTION!"
HHH Rehabilitation Services are available Monday-Thursday 7 a.m. – 6 p.m. and Fridays 7 a.m. – 5 p.m. They can be reached at 309-944-9150.