Breast Health
Chances are you or someone you know has been affected by breast cancer. It is all too common, but if there is one thing we have heard many times, it's "early detection is the best prevention". At Hammond-Henry Hospital, we are committed to providing the best in breast healthcare to our community. From diagnosis through recovery we are here for you.
Why should I get a mammogram?
Mammograms are used as a screening tool to detect early breast cancer for those experiencing no symptoms and to detect and diagnose breast disease for those experiencing symptoms such a lump, pain or nipple discharge. The American Cancer Society recommends mammograms for women starting at age 40.
Screening Mammography - plays a central part in early detection of breast cancers because it can show changes in the breast up to two years before a patient or physician can feel them.
Diagnostic Mammography - an X-ray of the breast that is used to check for breast cancer after a lump or other sign or symptom of breast cancer has been found. Signs of breast cancer may include pain, skin thickening, nipple discharge or a change in breast size or shape. A diagnostic mammogram also may be used to evaluate changes found during a screening mammogram.
What is a mammography?
When you get a mammogram for the first time, there is bound to be some apprehension. Usually taking around 20 minutes, a mammogram is a specific type of imaging that uses a low-dose x-ray system to examine breasts. It aids in the early detection and diagnosis of breast diseases.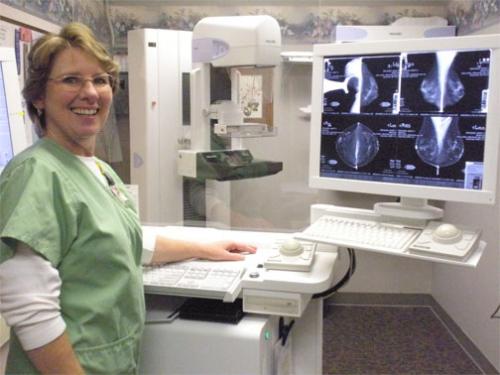 3D Mammography
Your breast is three-dimensional. Your mammogram should be too. At Hammond-Henry Hospital, we offer 3D Mammography so that you have the best chance for early detection. If you have had a mammogram before, you probably will not notice a difference in your test. However, your test will be more accurate. 3D Mammography works by capturing multiple slices (images) of your breast from several angles. Then, a computer produces a 3D image of your breast tissue in one-millimeter slices (about the width of a dime). A radiologist reviews the data, one slice at a time, like turning pages in a book, making it easier to see if there is anything to be concerned about.
A 3D exam detects 41% more invasive breast cancers and reduces false positives by up to 40%. This means one simple thing: more accuracy.
How do I prepare for my mammogram?
Please arrive 10-15 minutes before your scheduled exam time.
If you experience breast tenderness a week before your period, it is advised not to schedule your exam during that week.
Please do not wear perfume deodorant, body oil or powder. These can appear on the mammogram as artifacts.
Wear a two-piece outfit.
If you are receiving a diagnostic mammogram, your appointment will be scheduled when a radiologist is on-site. Generally, between 7:30 – 9:00 a.m.
Who reads my mammogram?
We partner with radiologists from Advanced Radiology, S.C. located in the Quad Cities to read all of our tests performed at the Hammond-Henry Hospital Imaging Department. After your images are analyzed a signed report will be sent to your primary care or referring provider, who will discuss the results with you. Because we partner with them, you may receive a bill from Advanced Radiology, S.C. after your mammogram.
Cancer. The next step.
The Hammond-Henry Rehab Department offers rehabilitation therapy for those suffering from side effects of cancer and treatment. For instance, sometimes cancer patients suffer from lymphedema, the accumulation of lymphatic fluid that causes swelling of the arms and legs. With non-invasive techniques, the Hammond-Henry Rehab Department can improve your symptoms.
The Hammond-Henry Hospital Auxiliary offers its support by crocheting breast prosthetics and caps.
Hammond-Henry Hospital Imaging Services
600 North College Avenue
Geneseo, IL 61254
Phone: (309) 944-9135 or contact us.