News & PR
Laboratory Open House slated for February 16
February 9, 2023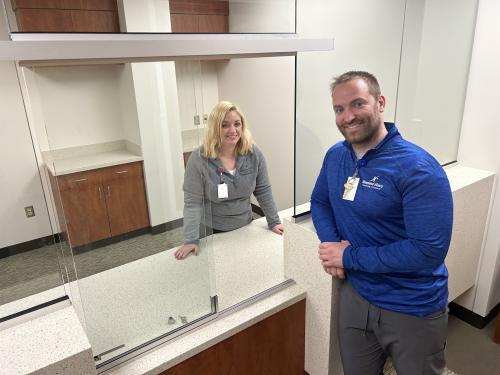 Hammond-Henry Hospital in Geneseo announces completion of a $1 million, state-of-the-art laboratory remodel which will be unveiled to the general public during open house ceremonies on Thursday, February 16 from 5:30 to 7 p.m. An additional open house will be conducted for Hammond-Henry Hospital employees from 11:30 a.m. to 1 p.m. that same day.
The new laboratory, located just past admitting on the northeast side of the hospital, features an open floor plan for increased efficiency, a staffed reception area and waiting room, private blood draw stations, office and storage spaces, and two handicapped accessible bathrooms. All equipment, furniture, materials, and other records will be migrated to the new space around the first week of March, including a full microbiology lab, molecular diagnostics, chemistry, hematology, and other laboratory equipment.
"It's been like a beehive around here, with everyone hustling and bustling to finish this much-anticipated remodel," said Wyatt Brieser, Director of Ancillary Services. "I can honestly say, a lot of people – both employees and everyone in the community – are very excited to reopen this state-of-the-art, updated, and beautiful laboratory. We are very proud of Karrie (Wetzell, Laboratory Manager) and her team for all their fine work during this transition."
Wetzell, who leads the team of 20 phlebotomists, medical laboratory scientists and technicians, and a board-certified pathologist, noted that the need for a new laboratory was due to high patient volume and the provision of more than 600,000 tests per year.
"When I first came to Hammond-Henry (25 years ago), we were lucky to have five outpatients a day," said Wetzell, MLS(ASCP) CM. "Over the course of time, we grew. Then fast-forward to the COVID-19 pandemic and our volumes increased to 100-120 outpatients a day, sometimes more. The lab was bursting at the seams with additional laboratory equipment and supplies needed to function. That's when we realized we needed more space.
"During the pandemic, everyone rallied together. Hospital and clinic staff worked together to implement the drive-through respiratory clinic in the emergency department ambulance bay. There were days that we saw so many people, the samples were toted to the lab in copy paper boxes. I often worked until 1 a.m. monitoring our supply inventory and COVID positivity rates, just to do it again the next day," said Wetzell. "We did it well, too. I was very proud of how our laboratory functioned. Other facilities closed their outpatient labs. It never even occurred to me to stop providing service."
As a matter of fact, Wetzell's team of 20 processes so many tests for this community that Hammond-Henry's lab became an outlier among like-size critical access hospitals. "When we participated in Illinois Critical Access Hospital Network (ICAHN) productivity surveys and reported our numbers, we were questioned as most other (critical access and small, rural) hospitals reported between 10,000 to 15,000 tests per month, and we were recording about 45,000 tests.
"To this I say, we're in the business of taking care of people, regardless of their geography. During the pandemic, we saw people from all over the state, including southern Illinois and Chicago, who had no access to COVID-19 testing. We saw everyone that needed us and continue to do so," she added.
With the resolution of COVID and thanks to a very generous community and a supportive Board of Directors, the decision to remodel the existing lab was made and all personnel moved to the specialty laboratory area on the northwest side of the hospital on August 21, 2022.
"Part of the reason for the move was to do everything in one phase (instead of the original two-phase plan). This allowed us to prevent disruption of lab service and plan a more efficient renovation," said Wetzell, who further noted that the new plan saved several hundred-thousand dollars and four months of construction time.
"Everyone has been very patient and kind during this process. The lab team and I are very grateful and appreciative for all the support. We're excited for our employees and the public to see our beautiful new lab," she concluded. "The new lab allows for future growth and offers us the space to provide the excellent care that we pride ourselves on."
Hammond-Henry Hospital's inpatient and emergency laboratory hours will continue to be offered 24 hours a day, seven days a week, and outpatient laboratory hours will continue to be offered Monday through Friday from 7:30 a.m. to 4:30 p.m. and again on Saturdays from 7:30 a.m. to 3 p.m.
All interested are invited and encouraged to attend the open house. Light refreshments will be served, and guided tours will be available.