News & PR
Rosa 50th Knee Replacement Surgery
September 10, 2021
FOR IMMEDIATE RELEASE: September 10, 2021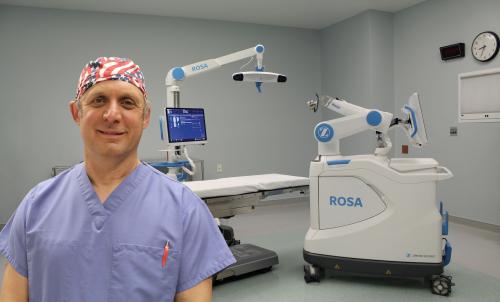 Hammond-Henry Hospital is excited to share that the 50th knee replacement surgery has been performed using the cutting-edge ROSA® Total Knee Replacement System, a new robotically assisted surgical system that enhances total knee replacement surgery. This 50th surgery took place just five months after implementing the ROSA system into the joint replacement surgical program at the hospital.
Offering this type of technology in a community hospital allows patients from Geneseo and the surrounding communities to be close to home for a knee replacement, including their imaging and follow up therapy, while receiving the most sophisticated care available. In most cases, patients are going home the same day to recover as opposed to recovering in the hospital. As an integral part of the process, patients are meeting with the rehab department to strengthen their muscles before surgery to aid in the recovery process.
Mark Stewart, M.D. of ORA Orthopedics performs the knee replacement surgeries at Hammond-Henry. He is pleased with the outcomes stating "The addition of the ROSA to knee replacements has been a huge win for patients. Not only are patients receiving a tailored procedure unique to their body, they experience better recoveries and increased mobility post-surgery."
The ROSA system combines robotic technology with industry-leading knee implants to help surgeons personalize knee replacement surgery for patients. ROSA knee is a robotically assisted surgical system that includes features to assist with bone resections and assessing the state of soft tissues to facilitate implant positioning intraoperatively. ROSA, which stands for RObotic Surgical Assistant, is designed to help your specially trained surgeon tailor the placement of your knee implant just for you. Getting a precise knee implant fit is important to your comfort and overall experience following knee replacement surgery. Data provided by ROSA knee enables surgeons to use computer and software technology to control and move surgical instruments, allowing for greater precision and flexibility during procedures. By pairing joint replacement with robotic assistance, we can achieve our goal of bringing relief and mobility to our patients and the community.