News & PR
Hammond-Henry Hospital Hosts US Secretary of Agriculture, Congresswoman Bustos
October 22, 2021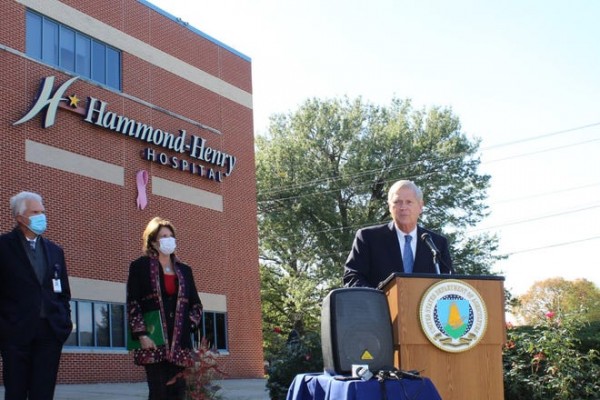 When staff at Hammond-Henry Hospital in Geneseo was invited to host United States Department of Agriculture Secretary Tom Vilsack and U.S. Representative Cheri Bustos in making an announcement on Friday, Oct. 22, the staff quickly responded "Yes!"
Their stop at the Geneseo hospital was to announce a significant expansion of access to high-speed internet, health care and educational services for millions of rural Americans nationwide.
The announcement continues to move forward President Joe Biden's Build Back Better Agenda by prioritizing economic growth in rural America and investing in the backbone of the country – the middle class, according to the press release received.
The announcement was made when the country's two leaders visited the newly-renovated emergency department at Hammond-Henry Hospital, a project that was financed in part by a USDA loan.
Vilsack said on Nov. 24, the USDA will begin accepting applications for up to $15 billion in loans and grants to expand the availability of broadband in rural areas. USDA is making the funding available through the Reconnect Program.
In the announcement, Vilsack said, "For too long, the 'digital divide' has left too many people living in rural communities behind: unable to compete in the global economy and unable to access the services and resources that all Americans need. As we build back better than we were before, the actions I am announcing today will go a long way toward ensuring that people who live or work in rural areas are able to tap into the benefits of broadband, including access to specialized health care, educational opportunities and the global marketplace. Rural people, businesses and communities must have affordable, reliable, high-speed internet so they can fully participate in mode modern society and the modern economy."